Last week while shopping in the Vineyards I picked up a copy of the Yellow Advertiser newspaper for the first time in years. I was shocked at its size – it was so small! The Yellow Advertiser is just 12 pages, which includes 2 full page spreads for 2 companies, less the front page and the classifieds, that leaves just 8 pages of adverts and news. This is surely a sign that printed advertising is going out of fashion.
But far more serious is the declining size of the Yellow Pages. I managed to keep 3 years of the Chelmsford Yellow Pages (unintentionally they surfaced after a new clear desk policy in the EssexPortal offices) . Each year the size of the book has reduced by quite dramatic levels, as the photo below shows. Why is this so?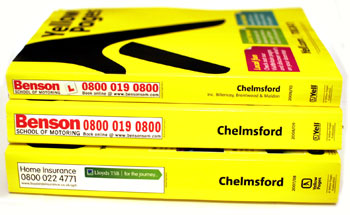 The economic recession caused by the credit crunch has been blamed for the downturn in printed advertising. However, at the same time, some business web directories, such as Essex Portal, are seeing an increase in activity. So, is the credit crunch really to blame for a reduction in demand for printed advertising space? Or are businesses slowly becoming more web savvy, and realising that they can get enough business through the Internet without spending money on expensive printed advertising? Many small businesses and sole traders are actually still getting enough business without the need to advertise. Recommendations play a large role, as does Google Maps, which also sends a lot of leads to companies.
Plus the free business directories are now much more advanced than before. In previous years a free directory listing was just a line for your company name, with address and telephone number, whereas, online business directories now offer more detailed descriptions, maps, email and links to business websites (often also providing greater SEO benefits to the business outside of the web directory).
Many directories also allow clients to manage their adverts better. While the Yellow Pages are printed just once a year, online directories can be updated everyday. So if a company decides to branch out or move office, then the online directory listings can all be updated. The advantages of listing online seem to be far better than on paper now. Competition is still heating up, and Google Maps / Local is winning more business everyday.
If current trends continue, we could see a merger of the Yellow Advertiser and the Yellow Pages in a few years time, and even then it will only be a pamphlet.