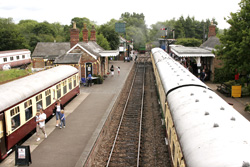 Essex is the best county for commuting in to The City of London. There are three lines. First, the line that runs from Ipswich (Suffolk), through Colchester, Witham, Chelmsford, Shenfield and Stratford to London Liverpool Street. The second line runs from Southend Victoria through Southend Airport, Southminster, South Woodham Ferrers, Billericay, Shenfield, Romford and on to London Liverpool Street. These two lines are run by Greater Anglia. The third line runs from Shoeburyness through Southend, Westcliff, Leigh-on-Sea, Benfleet. Pitsea, Tilbury, Grays, Basildon, Laindon, Upminster and into Fenchurch Street. This line is run by C2C.
There are many excellent places to live in Essex which are not mentioned here. This page lists the towns with railway stations for commuters who wish to be able to walk (or have a short bus journey) to the railway station. For each town we provide average prices for a property as a guide. Data comes from Home.co.uk and was sourced in March 2013. Due to the sluggish market prices may not be accurate or represent all housing stock and houses closer to stations tend to be much more expensive than those in the suburbs or on the outskirts of town. In short – these prices are a very basic guideline only.
Towns listed in order of distance from London, first the Great Anglia route, then the C2c. So the last on the lists are closer to London with shorter commuting times, cheaper train fares, but more expensive houses and you never get a seat!
Greater Anglia Ipswich – Liverpool Street Line
For timetables and rail fares see the Greater Anglia website.
Manningtree
Manningtree is in Holbrook Bay on the River Stour. It is thought to be the smallest town in England. It is 1 hour from Liverpool Street on the fastest train, some trains take longer. The 7.27am arrives in London at 8.40am. There is not a lot of property data from Manningtree as the market is quiet.
63 minutes from London
Average detached house £235,000
Average semi £197,333
Famous People: Margaret Thatcher and Matthew Hopkins, the self-appointed Witchfinder General, lived in Manningtree.
Colchester
Colchester is famous for being England's oldest recorded town – the Romans called it Camulodunum. Boudica famously attacked and destroyed the town – the story is told at the Colchester Castle Museum. Colchester has a good night life and several theatres and arts venues.
53-60 minutes to London
Average detached home £283,147
Semi-detached is £175,130
Marks Tey
Marks Tey is a large village (4 times more populous than the town of Manningtree). Although closer than Colchester, it is often a slower line.
56 minutes to London
Average detached home £195,000
Semi-detached is £204,995
Kelvedon
Kelvedon is another large village / small one street town close to the A12. It's High Street was once part of the A12. Kelvedon has an annual free community festival.
53 minutes to London
Average detached home £283,147
Semi-detached is £175,130
Braintree
Braintree is a medium sized town on the River Blackwater. Property prices are relatively cheap. While the town centre is not great, there are many nice areas just outside town.
60 minutes to London
Average detached home £297,041
Semi-detached is £183,200
Louie Spence, the dancer from Pineapple Dance Studios, is from Braintree, as are The Prodigy, Steve Harley and the family of US Founding Father John Adams.
Hatfield Peverel
Hatfield Peverel is a large village just off the A12. It has all the basic amenities you need, plus is only 6 miles from Chelmsford. There is also an excellent restaurant, the Blue Strawberry Bistrot.
47 minutes to London
Average detached home £492,500
Semi-detached is £295,000
Chelmsford
Many people consider Chelmsford, the County Town of Essex, to be the ideal commuter town. It is only 35 minutes by fast train to Liverpool Street, has a reliable and frequent rail service and there is a lot to do in and around Chelmsford. For this reason it is now one of the most expensive towns in Essex to move to. See Where to Live in and around Chelmsford for more information. Pros: you can get a seat from trains that start in Chelmsford. Chelmsford is also home to some very good schools. Cons: Expensive parking.
40 minutes from London
Average detached home £398,897
Semi-detached is £238,500
Ingatestone
Ingatestone is a small, one high street town. Property is in high demand and prices can reflect that – you will need over a million pounds for most 4 bedroom houses and 2 and 3 bedroom homes are £100k more than in Chelmsford. Ingatestone also has a very good secondary school – the Anglo European School.
34 minutes from London
Average detached home £1,250,000
Semi-detached is £572,500
Shenfield
Shenfield is a leafy town which borders with Brentwood. In fact it was once a village and is now considered to be a suburb of Brentwood. It is close to the A12. There are some nice parks and woodland in the area It is an old settlement, the Green Dragon pub sits on the old London-Colchester Roman road and the name derives from the Anglo-Saxon word Chenefield, which means good lands. It is on the junction of the main line to London and the Southend line.
34 minutes from London
Average detached home £1,250,000
Semi-detached is £572,500
Brentwood
Brentwood runs a metro (slow) service to Liverpool St, but it is also only a single stop from Shenfield, plus properties on the north side of Brentwood are within walking distance of Shenfield Station. Brentwood is also on the new CrossRail service which is planned for 2018.
34 minutes from London
Average detached home £1,250,000
Semi-detached is £572,500
Greater Anglia Southend Victoria – Liverpool Street Line
Some of the towns listed below are actually on the Crouch Valley Linem which is a branch line from Wickford to Southminster in Essex. Journey times are longer than average for thie distance from London due to many stops.
Southend
Southend is the largest town along the Thames Estuary coast in Essex. The A127 ends in Southend at a junction with the A13. It has a good grammar school and also a campus for the University of Essex.
In 2012 Southend had one of the most active housing markets in the UK and was one of the few areas which saw some steady increases in house prices.
58 minutes from London
Average detached home £314,382
Semi-detached is £243,984
Hockley
Hockley is a large village and civil parish about midway between South Woodham Ferrers and Southend. Hockley is surrounded by golf courses (Lords, Ballards Gore and Rochford Hundred) and woods making a great place to live for those who enjoy the outdoors. Property prices are reasonable too.
58 minutes from London
Average detached home £325,000
Semi-detached is £189,166
Southminster
Southminster is in the district of Maldon and about 3 miles from Burnham. The town has little more than a large village, there is no secondary school. It is an old settlement, in Pandole Wood there are ancient Iron Age earthworks, St Leonard's Church dates back to the medieval period and it sits on the old Roman road that leads to St. Peters Chapel. It is on a slow train line.
72 minutes from London
Average detached home £225,000
Semi-detached is £164,167
Burnham-on-Crouch
Burnham-on-Crouch is a small town on the River Crouch. It is a very popular place for sailing (home of the Royal Corinthian Yacht Club), and in the past was a popular fishing port. It is a the main town on the Dengie peninsula, and has an independent cinema, plus 22 pubs and bars.
67 minutes from London
Average detached home £238,000
Semi-detached / terraced is £190,250
South Woodham Ferrers
Southwoodham Ferrers became a popular commuter town during the 1970's. At its centre is the Asda supermarket and surround shops, pubs and takeaways. It has a well equipped sports centre with swimming pool and is surrounded by stunning countryside and river walks. It is famous for its Tolkien inspired street names – you could live on Gandalf's Ride, Gimli Watch, Rivendell Vale, Celeborn Street or Hobbiton Hill. During the 1980's and 1990's it was one of the largest new housing developments in Essex and has always had some of the regions more affordable housing.
51 minutes from London
Average detached home £315,000
Semi-detached is £236,000
Battlesbridge
Battlesbridge is a village on the River Crouch. Its most famous feature is the Battlesbridge Antiques Centre. There are also frequent classic car and motorbike shows, and the Battlesbridge Rural Theatre. There are 2 pubs, The Barge Inn and The Hawk.
47 minutes from London
No average prices due to no records of house sales recently.
Billericay
Billericay is a nice town within the parish of Basildon. It is one of the largest towns on this route and has the best amenities, including 3 secondary schools, football, cricket and rugby clubs, plus some nice pubs, restaurants and cafes. Being the largest town on the line and close to London (although still 43 minutes away) it sports some high house prices.
Billericay has bred many famous people, including Alison Moyet, Lee Evans, Mark Foster (Olympic swimmer), Nicholas Farrell and Andy Coulson.
43 minutes from London
Average detached home £463,969
Semi-detached is £244,188
Beyond Billericay are Shenfield (details above), Romford, Ilford and Stratford.
C2C / Fenchurch Street Line
For timetables and rail fares see the c2c website.
Shoeburyness
The cC2 line starts at Shoeburyness. It is a pleasant seaside town within the borough of Southend. It is also where the A13 starts (or finishes) which provides a good road direct into London. There are 2 blue flag beaches.
House prices vary a lot in Shoeburyness, from rather affordable semi-detached homes at around £160k to large detached homes with sea views that are over a million pounds.
Billy Bragg famously sang about the A13 Trunk Road To The Sea (to the style of Highway 66).
77 minutes from London
No recent averages – see Southend
Thorpe Bay
Thorpe Bay is considered a wealthier part of the Essex coast. It is a borough of Southend, within the ward of Thorpe.
74 minutes from London
No recent averages – see Southend
Rachel Riley, the co-presenter of Countdown, is from Thorpe Bay.
Westcliff
Westcliff is another suburb of Southend. It has some sandy beaches (imported sand held in place with groynes). It has a conservation area which includes the Prittlewell Square gardens. The main shopping area is along the Hamlet Court Road which had some improvements made in 2010.
55 minutes from London
No recent averages – see Southend
A few famous people come from Westcliff, including Russell Kane, Helen Mirren and Wilko Johnson.
Leigh-on-Sea
Leigh-on-Sea is also a part of Southend. It is split into two parts, Leigh-on-Sea and Old Leigh. It has a pleasant waterfront and some good pubs in town. The whole sea front is devoted to harbours and boating, there is no public beach in Leigh.
52 minutes from London
No recent averages – see Southend
History: The Leigh fishing fleet was involved in the Dunkirk evacuation.
Each year Leigh hosts to Leigh Folk Festival and an annual Regatta.
Beyond Leigh-on-Sea are Benfleet, Pitsea, Basildon, Tilbury, Grays, Laindon, Upminister, Barking, West Ham, which are all more urban towns on the outskirts of Greater London.
Essex has a town to suit most people. From small villagesque towns, towns and villages surrounded by golf courses, water sports or fishing, towns near woodland and towns near the seaside. The fastest commute is from Chelmsford, and house prices reflect this in the town centre. Living further out has its advantages – cheaper housing and you can almost always get a seat on the train in the morning.